The military battle simulation and hardcore action are perhaps the reason why many find the game of paintball fun and exciting. For the enthusiasts,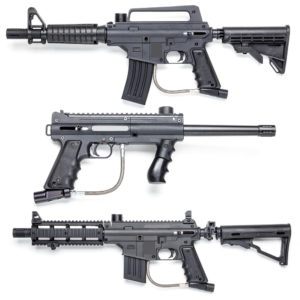 nothing can be more thrilling, heart pumping and adrenaline rushing than the feeling of being in the world of Modern Combat and Call of Duty complete with all the gears, armors and of course, the paintball gun.
Whether playing for a hobby, game or serious competition, having a reliable and superior paintball gun is necessary to achieve a clear and accurate shot, outstanding experience and improved performance. And with different models available in the market, the selection process becomes trickier and more overwhelming, thus this review aims to help you find the best paintball guns that will best suit your needs.
Best Paintball Guns 2018
What makes these paintball markers a standout from the pack has a lot to do with the accuracy of performance, integrated features and ease of use. Below gives a detailed review of each.
1. Tippmann Cronus Paintball Marker Gun
– Ideal for beginners and best choice for intermediate players as well

Made of high-impact composite milsim body, Tippmann Cronus paintball marker is lightweight but highly robust and effective to use, which both beginners and intermediate paintball enthusiasts might find to be a great armor of choice. It is easy to use and handle as it has a rather direct and straightforward mechanism and minimal maintenance required.
One of its great features is the four Picatinny rails that allow it to be conveniently modified by attaching an assortment of accessories like grips, flashlights or other upgrades in case you want to achieve a complete customized tactical marker look. This .68 caliber paintball gun is capable of using both Co2 and HPA air and holds a 9-inch stock barrel length which is quite common and generally available in the market.
Having both front and rear fixed sights, this marker gun is designed in a semi-automatic firing style that allows you a clear view and hit on your target and works even when playing in the rain and in any rugged conditions.
The handle is made of a contoured rubber grip, which will make it easy for you to hold the gun closely and tightly when the game gets messy and tough. And because it is lightweight, we are pretty sure it will not hinder or slow down your running and any movement on your way to victory.
Other standout components that make it more comfortable and convenient to use are the internal gas line, and reliable in-bolt system, which is a classic and widely known Tippman feature. I would personally consider this a wise option as it will not cost you as much as other high-end models of the same caliber.
Pros
It comes with multiple Picatinny rails for adding accessories and sights
Made of high-grade materials
Lightweight and portable
Ergonomic design
Designed with both front and rear fixed sights
Cons
Stock Barrels requires improvement
The sights cannot be adjusted
Some parts on the exterior is made of plastic




2. Action Village Kingman Spyder Epic Paintball Gun Package Kit (Victor)
– Fully mechanical and designed with high level of reliability


With its standard features and low maintenance, we believe this can be one of best paintball guns for beginners as it fits their basic needs. It is reliable to use because it is 100 percent mechanical, which for me provides better control and is more economical as it will not require any electronics or batteries to operate.
The two-finger trigger and no-slip rubber handle of this .68 caliber paintball gun are ergonomically designed for secure and comfortable grip and increased shooting performance. A lightweight marker, its body is made of aluminum, thus makes it durable to sustain the rough game even if it will take the whole day.
Depending on your own personal choice, you can use either Co2 or compressed air to power this marker. Most paintball players I know however prefer the compressed air more as Co2 has several limitations.
For a great value of money, you will have these other components such as high impact composite feed neck, 10" ported barrel, steel braided hose line and a rear velocity adapter.
Pros
Lightweight
It provides option for either Co2 or compressed air
Upgradeable
Comes in complete package
Non-slip rubber handle
Cons
It does not come with a barrel bag
There is no vertical handle
The composite feed neck is not tool-less.
3. Tippmann Gryphon Paintball Marker Gun 3Skull 4+1 BC Mega Set
– Features a center feed design for optimal mobility


Built with the renowned and classic Tippmann feature, this paintball gun also comes with an inline bolt system, which is placed to give you balance when shooting. Apart from that, this 68 caliber marker gun integrates other components that promote ease of use and durability that both beginners and intermediate players will find hugely advantageous.
For one, it is lightweight, thus any concern of having any difficulty carrying it as the game progresses is out of the question. Beginners, especially are still yet to get the hang of the rigidity and ruggedness of the game, hence, for added comfort, the front grip is ergonomically designed to reduce hand strain and fatigue and features a blade trigger for a smoother trigger pull.
The high-impact and sturdy body is built with a high-performance barrel for increased accuracy and at the same time eliminate any sound. It comes with an anti-fog lens to help you still get a good aim despite the tough weather and other factors.
The kit aside from the marker itself is already equipped with the basic needs and attachments such as the 200 round gravity feed hopper, 20-oz Co2 tank, barrel condoms, 140 round paintball clear tubes, and 4+1 black harness to get you started right away, thus definitely worth every single penny spent.
One distinct and very useful addition to this package, which not all unit kit has thought of including, as it is usually bought separately is the gun cleaning equipment. Cleaning your paintball gun after use is, of course, essential to keep it in its pristine condition for a long time.
Pros
The package comes with a gun cleaning equipment
Lightweight
Comfortable to hold
Robust and durable
Cons
The pod belt would stuck out from the belt sometimes
Not compatible for any possible and desired upgrades
Plastic body may be vulnerable to cracks and scratches
4. Empire BT Omega Marker
– Fully upgradeable and APEX barrel-ready


This newly redesigned Empire BT Omega paintball marker is made available for tough and heavy duty combat as it is built with a sturdy and rugged body allowing it to weather any difficult conditions. It accepts both Co2 and high-pressure air sources for maximized performance and making it versatile to use.
One great thing about this paintball marker is the maintenance because it only requires minimal of it, which for me is a pretty big deal because I can be impatient with chores. It is engineered to be battle-ready, as carrying it has never been easier with an adjustable security carry handle that it is designed with for increased portability and mobility.
It features a multi-position adjustable stock which is very useful in getting a steady aim. And its fixed sight rail further helps you get a clear target on your opponent and allow you to get that accurate shot.
And if further along you will decide to add some accessories to up your game and perhaps advance it to BT Electronic Grip, HALO powered Rip Clip or the Clamp Elbow Kit, for example, it can be possible because this paintball marker is fully upgradeable. It is compatible with a Rip Clip Loader and designed to be APEX barrel ready, which has high quality, fast performance and is top of its class.
We would personally recommend this to both beginners and the not-so paintball newbies because of the simplicity and effectiveness of it. And it is on the standard pricing, which will not be heavy on your pockets.
Pros
The adjustable stock allows you variety
Solid marker gun
Requires little maintenance
Rugged construction and design
Can be upgraded
Cons
Tend to be heavier than other models
The stock is poorly designed
Does not come with a Picatinny rail
5. DYE M2 Paintball Marker
– Most technologically advanced, high-end paintball gun model that is generally preferred by professionals

With highly advanced and innovated features and luxury craftsmanship, DYE M2 paintball gun offers superior performance upgraded with the new MOS (Method Operation System) Air and E.Voke System compatible. This may come in handy as it may let you get ahead of the game since it can provide you with real-time audio updates, pro inspired drills and coaching through the wireless PAN connection.
Highly technical and savvy paintball players may enjoy the prism interface with a high-resolution OLED screen where they can get feedback, update performance settings, and update the lightning fast through the internal pressure sensor clearly. It is designed with a 5-way control joystick as well, for easy navigation and control on the different setting adjustments and other gear checking.
Another superior and advanced feature of this paintball marker is the availability of a standard micro USB port where you can update your software, download or charge your battery without fuss.
Unlike most models, M2 comes with a rechargeable battery, which I personally like because it is more economical and hassle free. So though it may be expensive upon purchase, it is worth it in the long run plus, you are getting all these high techs and top of the charts components and advantages.
And for your increased performance and comfort, it has an ergonomic external design, which can be adjusted to maximize trigger speed and angle to fit perfectly to your hand. It also includes two .684 and .688 Ultralite barrel backs.
This marker is lightweight, thus running and carrying it for a long time can be bearable.
Pros
Attractive design
Advanced wireless connection between frame and body
Rechargeable battery
Easy setting and adjustment navigation
Comes with a USB port
Cons
Battery doesn't last that long
The charger takes time to recharge
Requires constant cleaning and expensive maintenance
6. Wrek Paintball Model 98 Platinum Basic Paintball Gun Package
– Bestselling paintball gun to date


With a proven Tippman inline bolt system design for long-lasting performance, this Wrek paintball model 98 is considered to be everybody's favorite as it is recorded to be the best selling paintball gun of all time.
Perhaps, one factor why many prefer this paintball gun is its proven durability and reliability. The sturdy and robust metal receiver will not easily break even how many times you drop it during a rough game activity and exercises not like plastic paintball guns, which is more prone to cracks.
This semi-automatic marker gun is easy to use and operate which is great for beginners and even professionals for a good fun of playing and competition in the field. While highly advanced models have a lot of components to get yourself accustomed to, this model has a very basic and straightforward mechanism that allows you to focus more on the game and opponents.
And if you are one of those who is a bit undecided of whether to buy the Co2 models or HPA, this paintball gun works well on both, thus you can rest your case and decide on that aspect later on. The kit includes an anti-fog mask which may come very handy in maintaining a clear sight even playing in difficult weather conditions.
And as you get deep into the paintball game and hobby and may want to add more features and elements on your gun, upgrades can be possible. You can change the barrel as well, in case maybe a shorter one will make you feel you can shoot better and improve your accuracy.
Pros
Does not fog up
Can be upgraded easily
Vertical front grip for increased stability
Has great range
Cons
Mask scratches too easily
Hard to disassemble
Harness is bulky
7. Tippmann Cronus Paintball Gun 3Skull Mega Set
– Great entry-level paintball gun made with high range and precision in a milsim composite body


Combining superior performance and durability in milsim body, you are assured that it is lightweight and can use both Co2 and compressed air, whichever will work best for you. Tippmann is a legend when it comes to paintball guns and accessories, as that may weigh a little something as we list the pros in choosing this Cronus paintball model, as it is for us.
By saying so, this paintball gun features the Tippman's outstanding in-line bolt system, and it is easy and comfortable to use that is also recommended for beginners. The composite body doesn't come undone, thus very safe to use and built to endure heavy duty game.
This .68 caliber paintball gun is designed with a contoured molded soft grip to keep you from getting strains after a long session. The placement of the Co2 has the right angle as it does not interfere with your underarm when you shoot giving you a steady aim and accurate shot.
Additional accessories and sights can be easily mounted with this as it is made to be upgradeable. This mega set comes not only with the reliable Cronus paintball gun but also includes 6+1 paintball harness, 6 140 round heavy duty ultimate paintball clear tubes, 200 round gravity fed loader, Maddog 20 oz empty Co2 tank and a GenX Stealth anti-fog paintball mask, which completes your entire armor.
It is a great value of money, considering you have everything needed, ready to set up in one kit and it shoots remarkably accurate.
Pros
Ergonomic design
It works with both Co2 and compressed air
Lightweight
Can be upgraded for additional new features
Cons
Some parts are made of plastic that may not prefer by others
The sights are not adjustable
Not recommended for speedball
8. JT ER2 Pump Pistol RTS Kit
– Designed with an anti-chop technology and safe ball stop features


This JT ER2 kit comes with a .68 caliber paintball pistol, 2 12-gram Co2 cartridges, 30 paintballs, and a barrel that is ready and set to give you smooth and powerful shooting experience. It features an anti-double pump action, and a smooth firing pump handle for a comfortable use for a prolonged shooting game.
Like your average, normal paintball gun with a standard velocity, this JT ER2 Pump pistol is powered by Co2 as well. It has superior range and shoots pretty accurately and directly to your opponent.
It is very light to carry even being on the field running and shooting whole day. If you are like those who prefer the pistol design than the long-barreled paintball rifles, then you may find this a great option because it is compact, durable and very easy to handle and operate.
A safety stop can be found in the body to securely lock the pistol from shooting unintentionally. And when you shoot, keep in mind to hold the gun in a forward position so you will get the paintball into the gun without a miss or any problem.
There is a feed port is located at the top part where the tube with 10 paintballs is conveniently placed. You simply need to attach it directly with no other modification or adjustments needed.
This cost very reasonable for a beginner's gun or for fun games with friends as it has all the standard and safety features and at the same time displays a rather good performance on the field.
Pros
Easy to set up
Paintball tube is easy to attach and replace
Reliable to shoot even in long distances
The trigger is very smooth to operate
Cons
Pump handle could be a little wider
May take time to insert theCo2 cartridges as knob is hard to remove
The paintball tube is attached awkwardly up
9.  Empire Paintball Slice G36 Elite Paintball Marker, Black
– Great for scenario games and simulation with the H&K G36 styling


Do the words Call of Duty ring a bell? Borrowing Heckler & Koch's book (H&K), the one responsible for the coolest gear and armor used by real-life militaries, this Empire paintball marker features a side-mounted Rip Clip loader, Apex2 barrel for easy aim and shoot on the target in any direction, and a fast firing electronic grip frame which is exactly inspired and modeled after the design and styling of the H&K G36. If you are fond of watching action movies and yes, play Call of Duty, then you might find this very familiar as they usually model the G36 as well.
A Picatinny located on the top rail may allow you to add some accessories for added accuracy in hitting your target. Another standout feature of this paintball gun is the foldable stock, which is great for shooting it tight areas and small places.
Empire Paintball Slice G36 allows you to separate the body without any tools required to easy and hassle-free cleaning and maintenance. So if you are in a rush and yet to do the maintenance cleaning before starting the game, it is possible for you to do so even in the field.
The T-handle cocking knob seals the marker from any side openings where dirt or mud can get inside. It conveniently uses both Co2 and compressed air power, hence you can always take your pick anytime.
Since it replicates the actual military-used guns, we personally recommend this to those professionals and perhaps even hobbyist who are into scenario games or competition. The fast firing grip alone is a great use to get ahead into the competition and help take away the opponents swiftly.
It comes with a Rip Clip loader and a versatile electronic frame that will allow you multiple firing modes, which are the Semi-Auto, 3 Round Burst, and the Full Auto. It can be a tad more expensive than other models but we personally think that with the styling and add on features, it is rather reasonable.
Pros
Authentic H&K G36 styling
Durable and can withstand tough conditions
Tool-less designed stripping to conveniently check and clean the internals
Automatic trigger
Cons
It is heavy as compared to other models
Does not come with a safety firing lock
Trigger will need to be unscrewed for adjustments on the setting
10. US Army Project Salvo Paintball Marker Gun 3Skull Sniper Set
– Best realistic- looking paintball gun

Manufactured by Tippman, this officially licensed US Army Project Salvo paintball marker also adapted the military gun look and style to give you the realistic feel while playing in the field. So if you are one of those who wants a military rifle and feels like one, then you might want to take a closer eye on this one.
This .68 caliber paintball gun features a high-performance inline bolt system, adjustable and removable front and rear sights, and a quick release feeder elbow for an increased shooting performance. Made of all-aluminum die cast receiver and stainless gas line, this military-style armor's robust design gives it the power to endure rough game and competitions and built to last.
The removable mock magazine has a double usage as it can be used as tool storage as well. It is designed with a top and side Picatinny rails for possible upgrades to E-Trigger Kit, Response Trigger, and the Cyclone Feed System.
Other features include the 11-inch quick thread barrels, AR15-style 6 position folding and collapsible stock, and the AR15-style shroud with four Picatinny rails. It is compatible with 98 Platinum Series Flatline Barrel and 98Custom Series Response Trigger Kit.
The GXG Stealth mask that it comes with is weather resistant even in the humid and extremely hot environment. Maintenance is conveniently made available for you as this set already include a cleaning package.
At a reasonable price, you can expect an outstanding performance akin to those higher-priced markers available in the market.
Pros
Longer remote line
The folding stock feature also provides easier transportation
Gives accurate shots
Good balance
Allows various upgrades
Cons
Only comes with the Co2 power source
The GXG bag is a bit small for this Salvo paintball gun
It is a bit heavier than other markers
How to Choose a Paintball Gun That Will Suit Your Needs
Paintball has become a widely known hobby, game or competition that is gaining a lot of players, enthusiasts and a huge following. To take part in this game, however, you will need a reliable paintball gun. And because it is the primary means and armor to get into the battle, it is paramount to equip yourself with the best in the market for a superior performance. The following may help you acquire some ideas on how to choose the armor for the win.
Consider your budget
There are actually different models of paintball guns in the varying price range. It helps to be able to define the amount you are willing to spend beforehand, so you can already trim your choices and concentrate on finding one that will meet your needs and specifications. And it doesn't even end there, as you may need to give allowances for accessories, gear, paint, and others as well.
Identify your level of playing
Do you intend to play paintball seriously for completion or just a hobby? This may be necessary because there are high-end models that are specially made with advanced and luxurious features for a particular purpose which can be costly. So if ever you only want it for an occasional breather, weekend bonding with friends or for de-stressing, basic but durable and highly effective types may be enough for you.
Beginner or intermediate player
There are models that are best recommended if this is your first time playing the game, as they are tailor-made to have the easiness and convenience suited for beginners and at the same time there are for those who are familiar and a pro of the game already.
Factors to Consider When Buying a Paintball Guns
Each paintball guns are made with varying features that promises you better performance, ease of use and solid construction. Checking one by one may, however, be daunting, thus, you may want to skip that part and jump directly on the essential as these factors below:
Weight
Weight is one important consideration when choosing which paintball marker to buy because a huge degree of your performance may depend on it especially on extended and prolonged use. The game is not mainly standing in one place or corner the entire time, thus it is vital to have a marker that is lightweight so it will be easy to hold, carry and run around with it.
Accessories and Attachments
To be all set and ready for combat and help improve our performance, additional accessories may be required. Some high-end models have already included some of these in the kit, making your paintball gun all set and well equipped on the get go, while other models offer features that will allow you to attach whichever you will think is necessary to improve your game.
Co2 or Compressed Air
There are two methods to gas up your paintball guns. You can either choose to use the Co2 or the compressed air. Most models aim to free you from the worry of deciding upon purchase that they are designed to have their models compatible to both. Most kits, however, come with Co2 tanks though, as compressed air tends to be pricier. Some economical models use solely the Co2.
Upgradeable
With constant updates on the features and other add-ons, it may not be wise to buy a new updated model every time. Thus, you may want to consider choosing one that is upgradeable, so even if you would want only the basic set up and mechanism, it will give you the option to update in case you will decide down the line.
Durability
Paintball is one tough and rigorous activity thus require a sturdy and rugged armor to go with it. It is essential to be keen on the construction and make sure it can withstand the tough weather conditions and situations. I don't think we would want to waste our money on a one-time marker.
Ergonomic design
To be able to focus on the game or battle, a paintball gun with comfortable and customized features can help improve your level of performance. There are models that are designed with contoured grip handle and adjustable trigger, which will fit your hands comfortably for a more reliable aim.
Value of Money
These paintball guns are typically expensive to buy. And with additional accessories and attachments, it is basically an investment in itself. Regardless, if you want to splurge more or keep a certain limit, be sure that it is one that you like and suit your needs.
Conclusion
After a thorough thinking and consideration, now comes the question, what is the best paintball gun? There still a lot more models available in the market, but these ten with different price range and paintball ability stood out for us because we believe they offer the best features and reliable performance. At the end, the choice for the best paintball guns will be dependent on our individual needs, preference and own limitations.

While it is true that the gears are only the icing on the cake and much of the credit for an improved accuracy and enhanced skill is due to constant practice, for me, it is still essential to find a perfect marker that is durable, comfortable to use, and has good range and perfect shot as it helps a great deal in achieving your desired goal. After all, even in actual battles, militaries would prefer a well-equipped and high caliber guns because it gives them the edge and advantage from their opponents.